Amalgam-Free Dentistry at Ottawa Dental Clinic - Ottawa Dentist
Are you looking for a dentist in downtown Ottawa? At the Rideau Dental Centre in Ottawa we offer
amalgam-free dentistry
, a treatment that is commonly used across Canada.
This treatment avoids the use of amalgam, an older solution that is still commonly used across the country today. Amalgam treatments are a viable solution to many issues in teeth restoration, but do not have the same versatility. Despite this, they are the most common and least expensive solution. Amalgam treatments use a variety of metals, such as mercury or silver, to fix dental issues. Additionally, amalgam treatments can take up to 24 hours to properly set and will corrode over time. This solution is still approved by the Canadian Dental Association, but may not fit the natural aesthetic of your mouth. 
What is the benefit of an amalgam-free treatment?
An
amalgam-free treatment
offers a solution to the controversial inclusion of these metals, but also offers much more. It sets significantly faster than its predecessor and offers much stronger protection to ensure your dental health. The customisation options for amalgam-free solutions allow us to make the finish match your teeth's natural colour, making it a vital step in cosmetic dentistry. It works as a solution to protect or replace your natural teeth, and fits your smile with the use of healthy porcelain, ceramic, or composite materials. Additionally, the strength of the treatments reduce the amount of necessary visits needed to keep your smile properly restored. If you want to ensure that your mouth retains its healthy whiteness, then an amalgam-free treatment is likely best for you.
We currently offer a variety of amalgam-free treatments, servicing
dental crowns
,
bonded fillings
,
porcelain inlays/onlays
,
root canal therapy
, and
dental implant restoration
in Ottawa. If you want to book an appointment, or would like more information,
Contact Rideau Dental Centre
just off Rideau St. to reach your
cosmetic dentist in Ottawa
.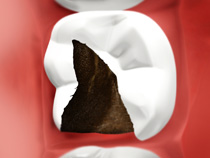 Last Updated On
2021-08-05