Bonded Fillings at Ottawa Dental Clinic - Ottawa Dentistry
In order to to arrange
bonded fillings
, come to Rideau Dental Centre, your
Ottawa dental clinic
. It is a quick solution to many issues that happen to your teeth, and avoids many concerns you may have from other treatments.
Bonded fillings
are an alternative to amalgam fillings and do not contain any substances such as mercury or amalgam in their installation. They serve as tooth-coloured composite restorations that bond and protect the teeth against further damage. Bonded fillings look natural to the tooth's colour when compared to their metallic alternatives and are durable. This type of filling is made to help with decays, gaps, or chips and cracks in your tooth. Bonded fillings are a solution to a variety of minor dental complications.
The filling is largely composed of a composite resin material that can be applied to the tooth to both mask and prevent further degradation.
Our team of dentists in Ottawa
can change the look of the material as needed to best suit you. That is because the material used in the bonded fillings is customizable to fit the natural colouration of your teeth in order to help it blend into your smile.
There is no need to worry if you are concerned about trying to arrange a lengthy visit or a procedure that does not work into your schedule. Our
Ottawa dentists
in just one visit, so you do not have to worry about a long wait to work on your teeth.
Bonded fillings
are an effective solution to many minor cosmetic concerns and can help to prevent further infection by guarding the tooth. If you have a minor issue that you do not want to solve with metal altering the general aesthetic of your mouth, then this may be just what you need.
To arrange an appointment with your
cosmetic dentist in Ottawa
,
Contact Rideau Dental Centre
to schedule an appointment today, even on Saturdays. Our office is on Rideau St., just by the Rideau Canal. We offer our service in a variety of different languages such as English, French, Cantonese, and Greek.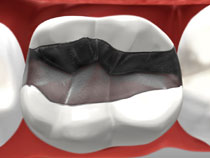 Last Updated On
2021-08-05