Full Mouth Restoration by Dentist in Ottawa - Ottawa Dentistry
At the Rideau Dental Centre, we understand that every patient's situation is unique and we try our best to make sure our treatments meet your needs. Our goal is to provide a comprehensive array of dental treatments to suit the individual situation of each person.
Sometimes, your mouth can get various types of damage that impact your health, but also the look of your smile. We aim to remedy these concerns, offering various treatments under the goal of giving you a full mouth restoration. The full mouth restoration treatment that we provide can include
teeth whitening
,
bonded fillings
,
dental crowns
,
porcelain veneers
,
invisalign invisible braces
,
root canal therapy
,
non-surgical gum therapy
and even
dental implants
. This treatment is largely used when damage extends to both the upper and lower jaws and cannot be fixed with an individual treatment.
The process to a restoration takes time, and your first visit is likely going to be spent with the dentist determining the exact course of treatment you need. The dentist will be thorough and analyse each aspect of your mouth. Once this is done, they will prescribe you your personalised treatment to pursue at a later visit. A full mouth restoration is not merely for aesthetic reasons, it aims to treat various issues or decay that can cause serious and long-lasting effects to your oral health in the future.
The full mouth restoration is essentially a combination of other treatments offered by our
Ottawa dentists
that is specifically tailored to your needs. Unfortunately, this means that we cannot offer you a direct explanation of what your procedure will involve without first having you come in to analyze your mouth. As such, we would be more than happy to have you in to discuss the treatment to work with you and your mouth's individual needs.
If you have any questions for us, or to book your full mouth restoration with our team of
dentists in Ottawa
,
contact us
or feel free to drop by our office. We are located in the CF Rideau Centre to offer a convenient location to serve your
Ottawa dentistry
needs.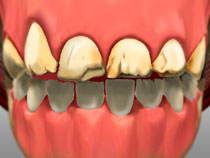 Last Updated On
2021-08-05