Porcelain Inlays/Onlays by Ottawa Dentist - Ottawa Dental Clinic
Our
Ottawa dental clinic
offers
porcelain inlays & onlays
to remove and cover damages to your tooth while retaining much of your mouth's natural structural integrity.
If you have various kinds of degradation done to your tooth, then a porcelain inlay or onlay can help reinforce its structural integrity. They are commonly used for restoring decayed teeth, a previously restored tooth, or teeth that experience a heavy chewing load (typically the back molars). If you have a cavity, then this is likely the treatment you will want.
The porcelain treatment is less detectable than its metal counterpart by being able to more closely match the natural colouration of your teeth. Even with this aesthetic benefit, it also offers a similar strength to preserve your tooth's structural integrity.
Our team
of
cosmetic dentists in Ottawa
will work with you to control the damage done to your teeth that occur during everyday use. Your mouth is not the same as anybody else's, so your treatment should be just as unique to match. The
porcelain used in our inlays or onlays
is customisable to match the natural colouration of your teeth. This allows us to work with your specific experience and needs to provide the right fit for you.
When compared to
dental crowns
, porcelain inlays and onlays require less of the tooth's structure to be removed before it is applied. As such, it is affixed to your tooth in such a way that retains much of its natural structure. Additionally, the procedure itself can be done within one visit after identifying the problem, and your mouth will be able to do most of its usual tasks within the same day.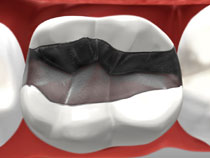 Our team of
Ottawa dentists
would be more than happy to work with you while you try to do what is best for your mouth. For more information and to ask about whether a porcelain inlay/onlay is right for you, feel free to
contact your dentist in Ottawa
here.
Last Updated On
2021-08-05